Verizon President Offers a Look Inside the Apple-Verizon iPhone Negotiations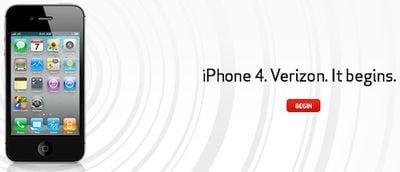 Bloomberg takes a look
at the negotiations between Apple and Verizon that finally led to
yesterday's announcement
that the carrier will begin carrying the iPhone next month after three and half years of AT&T exclusivity in the United States. Among the interesting tidbits of information revealed in an interview with Verizon President Lowell McAdam:
- The Verizon cell towers on Apple's campus disclosed by Steve Jobs last July were in fact installed to enable testing of the CDMA iPhone on Verizon's network.
The companies erected Verizon cellular towers at Apple's Cupertino, California, headquarters to check the phone's signal and avoid the reliability troubles of the iPhone at AT&T.
- Engineers from Apple and Verizon worked very closely together throughout product development, with a top Verizon engineer spending more than a year working directly on Apple's campus and Apple engineers being provided with "their own laboratory to play with" at Verizon.
- Negotiations were primarily handled by McAdam and Apple Chief Operating Officer Tim Cook, with input from Jobs and Verizon CEO Ivan Seidenberg as needed.
"We probably worked six or nine months on the technical side of this and saw we could make this work," he said. "Then we did the commercial side. The commercial deal took us a day.
- Verizon and Apple also had to reach an understanding about the prominence Verizon's branding would have on the device, with the iPhone carrying no external Verizon logo and no preinstalled applications or custom software changes promoting the carrier.
To reach a deal, Apple and Verizon had to reconcile different approaches to branding. Verizon puts its stamp on other manufacturers' devices, including phones from Research In Motion Ltd. and Motorola. By contrast, only Apple's name appears on the iPhone.
"They don't put a lot of logos on their phones," McAdam said in the interview. "So that wasnt a major issue for us."
Former Apple executive Jean-Louis Gassee notes that Verizon was likely easily persuaded to go along with Apple's demands in the branding department after seeing the success of the device on other carriers under similar terms.