Verizon iPhone Launches with Mobile Hotspot and Redesigned Antenna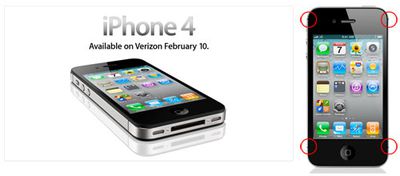 Apple and Verizon
announced
the Verizon-compatible iPhone today. The new iPhone 4 is functionally identical to the existing AT&T/GSM iPhone 4, but has been made CDMA compatible to run on Verizon's network. It seems there have been some antenna changes to the design with an additional antenna break in the casing.
The new antenna design was leaked in an early video that was later removed by Apple. The new design has moved the antenna break position from the top to the sides of the device. The change may simply be to accommodate CDMA's different communication frequency rather than address the antenna issue from the original design.
The iPhone 4 for Verizon will begin preorders on February 3rd with availability starting on February 10th. The 16GB model will cost $199.99 and the 32GB model $299.99 with two year contract.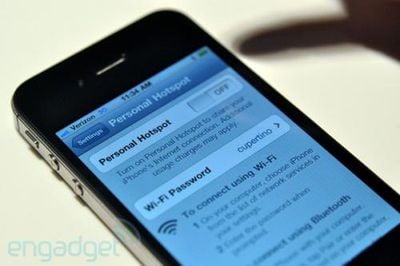 Image via
Engadget
In a surprise move, Verizon is allowing the iPhone 4 to be a mobile Mi-Fi device that can share its 3G connection to up to 5 Wi-Fi enabled devices. This means your laptop can share your iPhone's 3G internet connection when a regular connection is not available. However, as a CDMA device, you won't be able to use your 3G internet connection and Voice at the same time.
Pricing details have not been announced.
Verizon has posted a FAQ for potential iPhone customers.