'The Daily' iPad News Publication to Debut January 19th [Updated]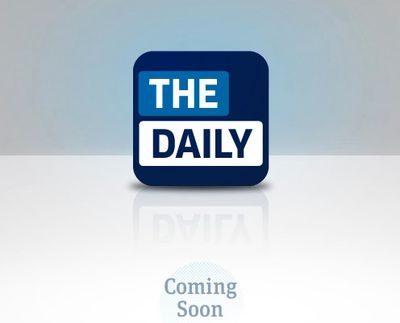 Last month,
All Things Digital
reported
that News Corp.'s forthcoming tablet-focused news publication,
The Daily
, appeared likely to debut sometime the week of January 17th.
Forbes
has now
confirmed
with a source inside the company that the publication will be formally announced on January 19th.
Mark your calendars, media nerds. Wednesday, Jan. 19, 2011 is the day it all changes. Maybe.
That's the planned launch date for The Daily, the iPad-only publication News Corp. has been feverishly developing. The company has yet to say boo about it, and a spokesman declined to comment when I asked him about the launch date, which comes via a News Corp. insider.
The report notes that The Daily's staff of 100 has been putting out content as dry runs for a list of 1,000 invited readers in preparation for the official launch.
Apple has been said to be supporting The Daily with its work on support for recurring billing via users' iTunes Store accounts. The Daily has been rumored to be priced at 99 cents per week, with users signing up for subscriptions being charged periodically without the need for manual payment management. Reports had previously indicated that the subscription billing support would be rolled out in a new iOS 4.3, although we've yet to see any signs of a new version of Apple's mobile operating system being pushed out to developers for testing.
Update: According to The Cutline, Steve Jobs and Rupert Murdoch will appear on stage together at San Francisco's Museum of Modern Art for the introduction.
The two media moguls will appear together at the San Francisco Museum of Modern Art, according to a source familiar with preparations for the event. The launch date is expected to be Jan. 19, but that may change.