First-Day Mac App Store Downloads Top 1 Million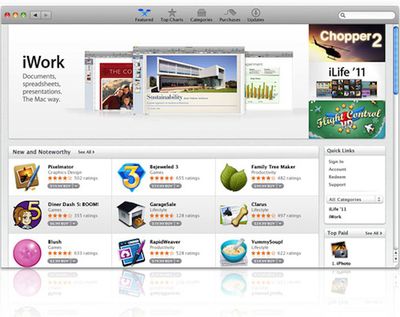 Apple today
announced
that the Mac App Store saw over one million downloads in its first day of business yesterday, marking a successful debut for the marketplace that currently offers over 1,000 free and paid applications for Mac OS X Snow Leopard users.
Apple today announced that over one million apps have been downloaded from the Mac App Store in the first day. With more than 1,000 free and paid apps, the Mac App Store brings the revolutionary App Store experience to the Mac, so you can find great new apps, buy them using your iTunes account, download and install them in just one step.
"We're amazed at the incredible response the Mac App Store is getting," said Steve Jobs, Apple's CEO. "Developers have done a great job bringing apps to the store and users are loving how easy and fun the Mac App Store is."
In its press release, Apple also invites other developers to join the Mac App Store, laying out the store's terms that see developers receiving 70% of revenue for apps sold through the store, with no hosting fees and no fees for free applications. More information on Apple's Mac Developer Program is available through Apple's dedicated developer site.