Next-Generation iPhone Parts Caught on Video?
Boy Genius Report points
to a
YouTube video
from smartphone parts firm
Global Direct Parts
claiming to show a comparison between parts from the iPhone 4 and an unreleased iPhone model that the company suggests may either be the CDMA iPhone 4 rumored for release in the near future or a fifth-generation iPhone. Due to the presence of a SIM-card slot, which is not required for CDMA phones, it would appear more likely that the device in question is a fifth-generation iPhone if it is indeed legitimate. It is of course possible that the part is either from a well-done fake iPhone 4 or perhaps an alternate design for the iPhone 4 that was ultimately not used.
The video highlights a number of similarities and a few differences from the current iPhone when it comes to interior parts and cables. A look at the "middle plate" that contains the stainless steel band that wraps around the edge of the device and provides the device's antennas that have been the cause of such controversy on the iPhone 4 reveals a few differences between the two devices : the break points in the frame between the two antennas have been moved to different locations, indicating that the antenna design has been tweaked despite a very similar overall appearance for the new iPhone. The shift in antenna design has also necessitated a slight adjustment in the location of several other physical features, most significantly the mute switch.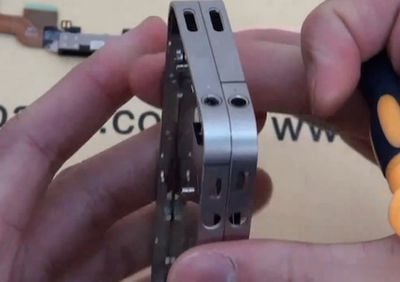 Comparison of claimed next-generation iPhone (left) and iPhone 4 (right) showing differences in antenna break points
The video concludes with a teaser claiming that more information on LCDs and motherboards is coming on the company's site, with additional information to be released next week.
Update: The YouTube video showing the comparison has been removed, citing a copyright complaint from Apple. Global Direct Parts has also removed its parts listings for the device.