Apple Bumps UK Prices as VAT Rises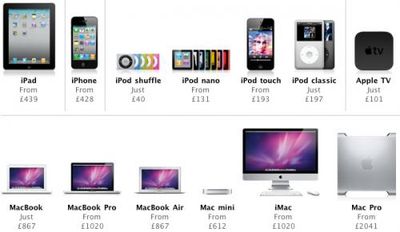 Apple's new entry-level UK pricing
Apple today took down its online store in the UK for a few hours, moving to raise prices to account for an increase in the national value-added tax (VAT) going into effect today that is seeing the rate rise from 17.5% to 20%.
The price increases have resulted in Apple straying from its usual price point targets, as an entry-level 13" MacBook Pro or 21.5" iMac that previously cost £999 with VAT now goes for £1020, while the entry-level Mac Pro price has moved from £1999 to £2041.
Popular iOS devices have also increased in price, with the 16 GB iPhone 4 rising in price from £499 to £510 and the 16 GB Wi-Fi iPad going from £429 to £439.
Some observers had hoped that Apple might choose to simply absorb the tax increases by reducing their prices slightly in order to maintain the psychological price points used for many of their products, but the company obviously decided that it needed to pass along the tax increase to consumers in order to maintain its margins.

Apple's old entry-level UK pricing