Apple Targeting Social Networking and Product Sales Predictions in Shopping Environments
A pair of Apple patent applications published by the U.S. Patent and Trademark Office today reveal that the company is continuing to look into ways of harnessing the knowledge of groups of consumers to assist in the shopping process both online and in brick-and-mortar stores. With these methods, the company hopes to assist consumers with social networking tools in the shopping environment, as well as use community-based sales ranking predictions to help consumers find the best products for themselves.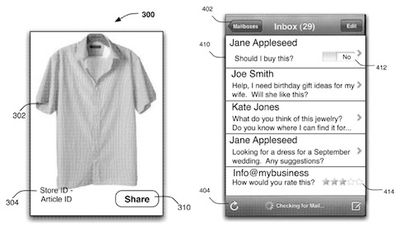 The first patent,
noted by AppleInsider
, is entitled
"Social Networking in Shopping Environments"
and was filed in June 2009. It addresses methods by which customers can use social networking tools to select items while shopping and solicit opinions on the appropriateness of the articles from friends. In some variations, store employees could also tap into the system to offer their feedback on proposed purchases and alternatives available in the store.
In a shopping environment, a user may identify one or more articles of interest. Before purchasing the articles, the user may wish to consult with friends or other people. To do so, the user can use a mobile device to transmit identifying information for the articles to mobile or other devices of the user's friends (e.g., some or all friends in an address book, or just friends located within a maximum distance of the user, for example in the same mall). The identifying information can include links to databases of the articles, images or photographs of the articles, location information for the friends to see the articles (e.g., identify a rack in a store where an article of clothing was found) or any other suitable information. The user's friends can review the identified articles, and provide comments for the user. For example, the user's friends can give a thumbs up/down, a star rating, a comment (e.g., text, audio or video), or any other type of comment.
In some embodiments, the user can receive recommendations of other articles to purchase instead of or in addition to the initially identified articles. For example, other users can provide identifying information for other articles available for purchase. As another example, other users can identify other articles already owned by the user that would go well with articles available for purchase (e.g., articles previously identified by the user, or articles identified by other users). The received recommendations can include comments to assist the user in determining whether to make a purchase. The recommendations provided by friends can include articles available in the store in which the user is shopping, in other stores (e.g., in the same complex or mall), online or from remote sources (e.g., links to an online store or to a catalog from which articles can be ordered) or from any other suitable source.
A second patent application, known as "Systems, Methods, and Computer-Readable Media for Community Review of Items in an Electronic Store", was also filed in June 2009 and addresses online marketplace as opposed to the brick-and-mortar stores addressed in the first application.
This second patent application describes ways to harness the input of users of online stores to predict the relative sales rankings of various products, thereby bringing them to the attention of other shoppers. The application begins by citing the difficulties in generating accurate reviews of products in online stores, from the cost and effort required for stores to perform their own reviews to the lack of trustworthiness from reviews provided by manufacturers themselves or other customers.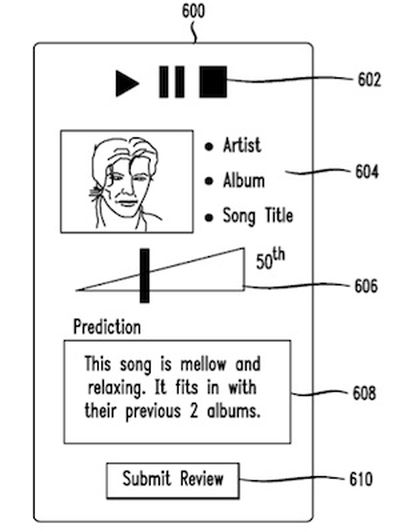 Sample review and prediction interface for an audio track
Apple's method describes how users could be surveyed to predict the performance of certain products, with the reviews of those who most accurately predict future performance over time carrying more weight when it comes to sharing their thoughts with other potential customers. For users predicting rankings, an increased "credibility score" may be sufficient incentive to drive participation in the program, although online stores could also offer financial incentives for customers making predictions.