Developers Harness New Accelerometer and Gyroscope Support in Mobile Safari
Soon after the launch of iOS 4.2 late last month, it was discovered by mobile programmer Maximiliano Firtman that Apple had updated the iOS version of Safari to support a number of new HTML5 and W3C standards, one of the most interesting of which was support for using devices' accelerometer and gyroscope features right in the browser.
As you may know, all iOS devices have accelerometer sensors (plus magnetometer and gyroscope on some devices). However, as web developers, we didnt have access to such sensors until now. Safari now supports the DeviceOrientation API (W3C draft). Looking at the available objects, it seems that all the API is fully supported (including ondeviceorientation and ondevicemotion events). . .
Firtman coded a quick demo (functional on iOS 4.2 devices only) of the new capabilities, allowing users to roll a ball around the browser window using accelerometer input.
With the new support not being broadly advertised by Apple, it has taken a little while for developers to create truly functional implementations of the features. But as
noted by The Next Web
, Occipital, the company behind the popular
360 Panorama
photo application, has now harnessed the features to provide immersive viewing of panorama photographs.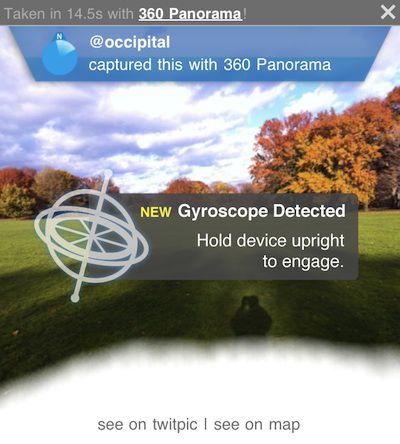 As an example of the feature in action,
this link
to a panorama utilizes traditional click-and-drag panorama navigation when accessed through a desktop or notebook browser, but on an iOS 4.2 device users can pan around the photograph simply by moving their device to mimic experiencing the scene as if they were there.
After you capture a panorama with the 360 Panorama app, one can upload the picture, getting the URL to view the experience in Safari Mobile. In essence, the raw jpeg image files are hosted on either TwitPic or yFrog after a user uploads a panorama through 360 Panorama.
After launching the URL in Safari Mobile, one will see "Gyro ON" and simply by moving your phone in any direction, you can have a complete panoramic experience using the photo you've captured. Moreover, experiences can be viewed on TwitPic, or the location of the experience using Apple's "Maps" app.
360 Panorama is currently on sale for $0.99.