Earlier this year, we reported on Verizon's plans to launch an App Store application that would allow customers of the company's FiOS television subscription service to view live TV on the iPad. While the feature would at least initially be limited to streaming over the customer's own home Wi-Fi network, it marked an interesting method of deploying portable television capabilities around the home.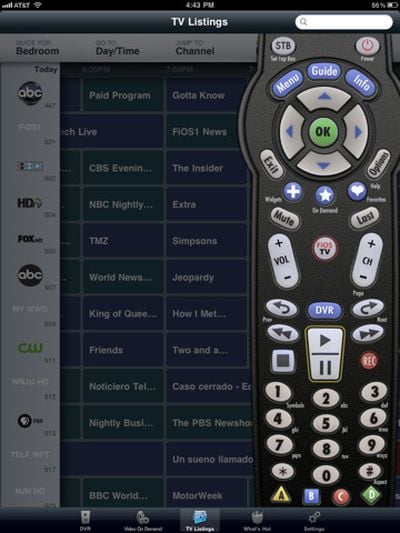 With Verizon at the time reporting that it hoped to launch the feature early next year as it brought content providers on board,
today's release
of a new
Verizon FiOS Mobile
application for the iPad brought some initial hopes that the feature might arrive a bit earlier than expected.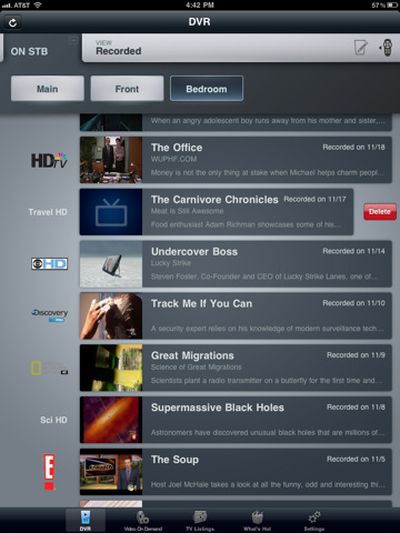 Unfortunately for those looking for the live TV streaming capabilities, they are not included in the debut version of this application. Instead,
Verizon FiOS Mobile
duplicates some of the functionality already available in existing iPhone applications, providing customers with the ability to manage settings and DVR recordings from their iPad, as well as use their iPad as a remote control.
FiOS customers can use FiOS Mobile for iPad to set parental controls, set bookmarks, browse and search TV programming, browse and search thousands of VOD listings, update set-top box names, use their iPad as a remote control to interact with FiOS TV (HD set-top box required) and see Whats Hot on FiOS.
DVR customers can program their DVRs remotely through their iPad. This includes setting any of their DVRs to record from virtually anywhere they happen to be, set a series recording, view the status of any of their DVRs and see how much space is left for recording, and view their lists of scheduled and recorded programs.
Verizon notes that it is working on additional features for the application, including the ability to "flick" photos from mobile devices to the television, but the company is silent on its plans live TV streaming. It is unclear, however, whether the functionality would be deployed as an update to this application or as a standalone application dedicated to streaming.