Apple Shuts Down Mac OS X Download Listing, Moving to App Store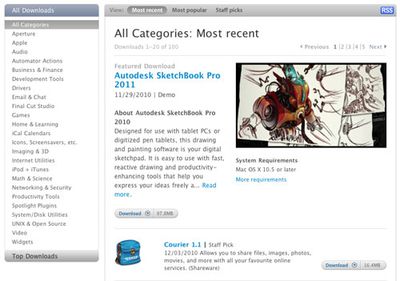 Apple has emailed developers this evening informing them that they will be shutting down their
Mac OS X Downloads page
in favor of listings in the Mac App Store:
Thank you for making the Mac OS X Download site a great destination with apps that offer users new ways to work, play, learn, and create on their Mac.
We recently announced that on January 6, 2011, the Mac App Store will open to users around the world, presenting you with an exciting, new opportunity to reach millions of customers. Since the introduction of the App Store in 2008, we've been thrilled with the incredible support from developers and the enthusiastic response from users. Now we're bringing the revolutionary experience of the App Store to Mac OS X.
Because we believe the Mac App Store will be the best destination for users to discover, purchase, and download your apps, we will no longer offer apps on the Mac OS X Downloads site. Instead, beginning January 6, we will be directing users to explore the range of apps available on the Mac App Store.
The move isn't entirely surprising as it makes sense for Apple to consolidate listings in one single location. It's not clear how much traffic the Mac OS X Downloads section receives on a daily basis, but if the iOS App Store is any guide, the Mac App Store should do quite well.