Four Insiders Charged With Revealing Product Plans of Apple, Dell, and Others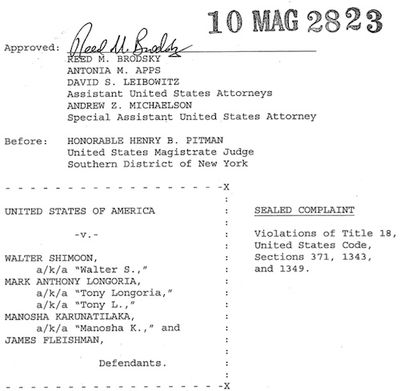 Last month, we
reported
on an investigation by U.S. regulators into inside information on Apple and other companies' product plans being transmitted to research analysts in the form of "channel checks". At the time, the investigation had just yielded its first arrest, an analyst for a research firm known as Primary Global Research, although the analyst did not appear to have a connection to Apple.
The Wall Street Journal now reports that four additional corporate managers who worked with Primary Global Research on the side have also been charged in connection with the investigation. One of those managers, Walter Shimoon, worked for Apple supplier Flextronics and is alleged to have distributed information on the then-unreleased iPhone 4 and iPad.
In their most significant move yet in a sweeping insider-trading investigation, federal prosecutors charged four corporate managers with peddling financial details about prominent technology companies and with leaking secrets about popular consumer products such as Apple Inc.'s iPhone in exchange for cash.
"The information trafficked by the four 'consultants' went way beyond permissible market research," said Janice Fedarcyk, a Federal Bureau of Investigation assistant director in charge. "It was insider information."
Fortune summarizes the key information divulged by Shimoon to a "cooperating witness" for the federal government known as "CW-2".
During this conversation, secretly taped by the FBI and now entered into evidence, Shimoon allegedly gave CW-2 actual third quarter iPhone sales figures -- numbers that wouldn't be publicly released for another two and a half weeks and could, in theory, move the stock.
Then he dropped his two bombshells:
- Apple, he is heard telling CW-2, was "coming out next year" with a new iPhone that's "gonna have two cameras ... It'll be a neat phone because it's gonna have a five-megapixel auto-focus camera and it will have a VGA forward-facing videoconferencing camera." Apple announced the iPhone 4 -- with its two cameras -- eight months later.
- Then he is heard telling CW-2 that "they [Apple] have a code name for something new ... It's ... It's totally ... It's a new category altogether... It doesn't have a camera, what I figured out. So I speculated that it's probably a reader. ... Something like that. Um, let me tell you, it's a very secretive program ... It's called K, K48. That's the internal name. So, you can get, at Apple you can get fired for saying K48." The iPad -- code named K48 -- was unveiled four months later.
According to reports, Shimoon had signed a non-disclosure agreement with respect to his work with Apple through Flextronics, but revealed the information to Primary Global Research, which paid him more than $22,000 for his role as a "consultant" to the firm.
Other corporate managers arrested in conjunction with the information have been alleged to have shared inside information on a number of other companies including Dell, AMD, Seagate, and Western Digital. Federal regulators appear to still be working hard on the case, reportedly working to build cases against even larger Wall Street players including major hedge funds investing in the companies that saw their insider information leaked to outsiders.