Verizon Loses Ground to AT&T's iPhone as RIM and Palm Fade
Asymco's Horace Dediu offers an interesting analysis of new data on Verizon's smartphone device sales over the past year, concluding that, despite a growing Android platform, Verizon finds itself in a position in which it may have had little choice but to accept Apple's terms to bring the iPhone to the carrier.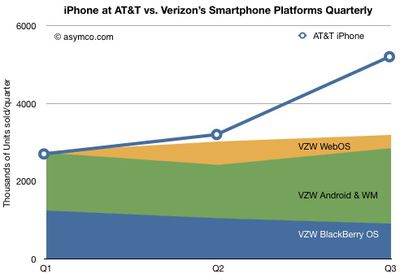 Dediu's analysis is based on that fact that sales of Android and Windows Mobile smartphones at Verizon have grown only slightly faster than the rate at which sales of Research in Motion's BlackBerry and Palm's webOS devices have fallen so far in 2010, yielding an overall sales growth rate for Verizon far short of that seen with the iPhone on AT&T. But even Android by itself (and a small fraction of sales for Windows Mobile devices that can't be separated out from the Android data) isn't selling as well or growing nearly as quickly on Verizon as the iPhone is on AT&T.
In an apples-to-apples comparison, in Q3 the iPhone at AT&T outsold Android at Verizon (remember, same addressable market) by a factor of 2.5. This is with a variety of devices and vendors thrown in the market. We hardly ever get to see this finely grained a comparison when looking at platforms.

Analyzing the data on a month-by-month basis reveals an even sharper trend of a steep drop in Verizon smartphone unit sales since August as a diversifying range of smartphone vendors have been unable to sustain overall handset sales for the carrier in the fact of the iPhone 4 on AT&T.
Dediu concludes that Verizon has likely been forced to reconsider its 2009 strategy that saw the carrier betting on Android to slow the trend of customers defecting to AT&T for the iPhone. That change of heart coming with the realization that the iPhone is continuing to steal growth from Verizon's offering may have been responsible for the carrier finally sitting down with Apple to get a deal done for a Verizon iPhone.
Of course, there has been much rumor and speculation about AT&T's exclusivity period for the iPhone, which almost certainly played a significant role in the timing of negotiations between Apple and Verizon, but if the sales data presented in the new report is true, it represents an interesting look at Verizon sales figures that suggest that the carrier may truly need to offer the iPhone if it wishes to fight off AT&T's iPhone-driven momentum in the smartphone market.