iPad Predicted to Represent 2% of North American Web Traffic by End of 2011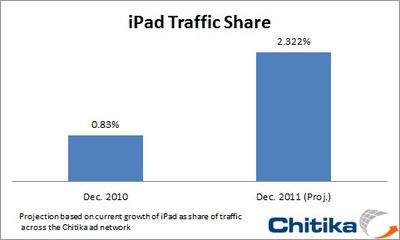 All Things Digital reports
on new research from ad firm Chitika predicting that the iPad will account for over 2% of all Web traffic in North America by the end of next year.
As of this month, the iPad accounts for 0.83 percent of all traffic on Chitika's network, research director Daniel Ruby tells me. And at current growth rates, which have been steady since the device's launch, it should hit 2.3 percent by the end of next year.
Chitika offers an extensive ad network serving over three billion ads per month on over 100,000 sites, and thus serves as a reasonable gauge of Web traffic in general.
Ruby also notes that the iPad is already matching Linux in terms of Web market share in North America according to Chitika's numbers. A report several months ago indicated that iOS as a whole had surpassed Linux on a global usage share basis, but did not break out iPad-specific numbers.
Data from the third quarter of 2010 released earlier this week estimated that the iPad represents 8% of worldwide mobile PC sales, nearly double the share of Apple's Mac notebook lines.