One-Third of Non-AT&T Smartphone Customers Would Have Purchased iPhone on Their Carriers
Market research firm ChangeWave today published the results of its latest survey of its professional and early-adopter consumer audience, again finding that Apple's exclusivity agreement with AT&T for the iPhone in the United States is costing it customers.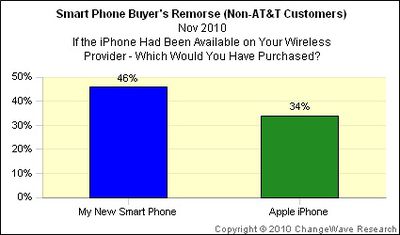 The survey builds upon one
conducted in August
that showed significant numbers of AT&T and non-AT&T customers alike waiting for Verizon to begin offering the iPhone. This new survey, however, specifically asks recent purchasers of non-AT&T smartphones whether they would have purchased an iPhone had it been available on their chosen carriers, and more than a third of those surveyed responded that they would have, with an additional 20% registering as unsure.
We asked non-AT&T respondents whether they'd have still purchased their new smart phone if the iPhone had been available at their wireless service provider at the time of purchase. The results show the continuing threat the iPhone poses to the rest of the industry.
In short, an extraordinary one-in-three non-AT&T smart phone buyers (34%) say they'd have bought the iPhone instead if it had been available at their service provider.
The survey goes on to examine which smartphone manufacturers matched up most poorly against the iPhone, and Motorola topped the list with a nearly equal percentage of its customers saying that they would have bought an iPhone if it had been available on their carrier as those who would still have bought their Motorola phone.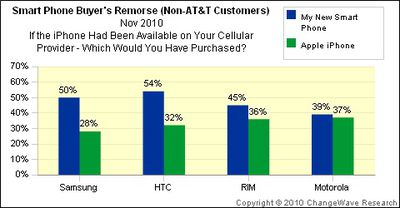 On the consumer satisfaction front, ChangeWave continues to find strong ratings for the iPhone 4, even higher than those for the iPhone 3GS and leading the industry, with 77% of iPhone customers registering as "very satisfied". Motorola took second place with 71% of its customers reporting being "very satisfied", while Samsung and Research in Motion trailed with results in the 45% range.