Surveys Show Pent-Up Demand for Verizon iPhone, Would-Be AT&T Defectors Waiting to Upgrade
A pair of surveys released last week reveal strong pent-up demand for a Verizon iPhone, which has been the subject of increasing rumors in recent weeks with claims of a release as soon as January.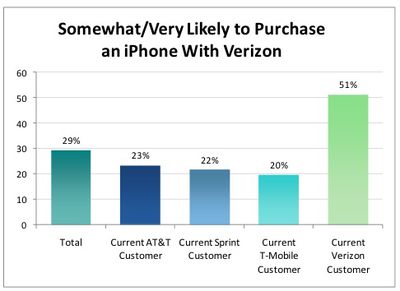 Market research firm Morpace has
published the results (PDF)
of a survey finding 29% of surveyed consumers either very or somewhat likely to purchase an iPhone should it become available on Verizon, with existing Verizon customers showing particular interest in the handset should it come to their carrier of choice. In particular, the strong interest among current Verizon customers suggests that bringing the iPhone to the carrier could have the double effect of both opening the device up to new customers as well as drawing them away from other smartphone platform such as Android, which has proven very popular with Verizon customers.

Interestingly, the survey also shows that nearly half of AT&T iPhone customers "would consider" a Verizon iPhone, with over a third of AT&T iPhone customers actively holding off from upgrading their handsets while they wait for the iPhone to make its way to other carriers.

That last data point is echoed in a
separate survey
conducted by ChangeWave that found 31% of current iPhone 4 owners either very or somewhat likely to switch to Verizon should the iPhone become available there. Those users are obviously already under a new two-year contract with AT&T, however, as they have just upgraded to the iPhone 4, and so it is unknown how soon after a Verizon iPhone launch they would be willing and able to make the switch.
ChangeWave previously released data showing AT&T as the biggest drag on iPhone satisfaction ratings, with a leading 27% of iPhone 4 customers citing AT&T's exclusivity for the iPhone as a reason for disliking the device, and 24% of users specifically pointing to the performance of the carrier's 3G network as a top drawback.