NVIDIA Launches Quadro 4000 GPU for Mac Pro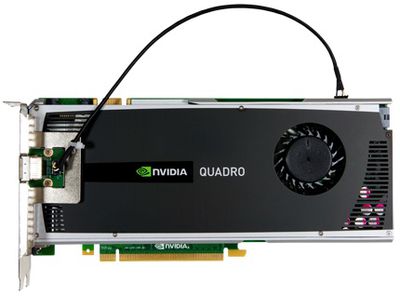 NVIDIA today
announced
the release of the
Quadro 4000 for Mac
graphics card, bringing the company's cutting-edge Fermi architecture to Apple's Mac Pro professional workstation hardware.
NVIDIA announced today the expansion of its award-winning line of NVIDIA Quadro professional graphics solutions to the Mac platform, bringing the computational and visualization breakthroughs enabled by NVIDIA Fermi architecture to Mac Pro users.
For professional users operating on Mac OS X Snow Leopard, this means the wait is over. The NVIDIA Quadro 4000 graphics processing unit (GPU) for Mac is optimized to accelerate workflows and drive a range of top professional applications.
Offering 256 CUDA processing cores and 2 GB of GDDR5 memory, the Quadro 4000 for Mac is capable of processing 890 million triangles per second. System requirements include Mac OS X 10.6.5 running on a 2008, 2009, or 2010 Mac Pro, and the card carries a suggested retail price of $1,199. It will be available beginning "this month" from Apple and other authorized retailers.