Hints of 'iTunes Live Stream' Service Found in iTunes 10.1
Speculation and rumors regarding tomorrow's iTunes-related announcement are continuing to come in from all directions, and the latest bit of speculation relies on some bits of information pulled out of the iTunes 10.1 release from last Friday to suggest that Apple might be looking to launch some kind of "iTunes Live Stream" service. Details on what exactly the service might be, however, remain sketchy.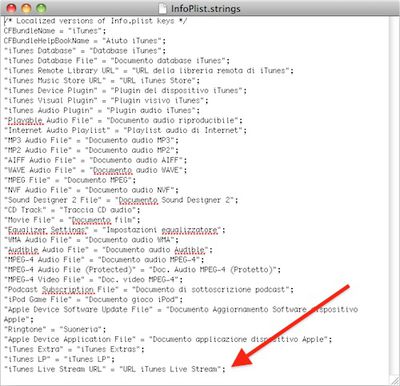 The Apple Lounge reports
[
Google translation
] that translation entries in a property list file included with iTunes 10.1 contain references to an "iTunes Live Stream URL" that appears to be a type of file or service that could be handled by iTunes. This reference is new in iTunes 10.1.

Meanwhile, as noted in a series of Tweets from
@dustinrue
, other
references
to "iTunes Live Stream URL" in iTunes 10.1 files suggest the ability to handle "itls" as a
URI scheme
in much the same way that iTunes uses "itms" to handle requests to connect to the iTunes Store.
As noted, however, it is unclear what iTunes Live Stream actually is, with speculation ranging from live streaming of existing television content to something more along the lines of user-generated streams of live video or audio content.
Apple has been testing some aspects of live video streaming in recent months, rolling out its own HTTP Live Streaming technology based on open standards to deliver live video of its September and October media events. And with the company's new data center in North Carolina set to open by the end of the year, the company would seem to have ample backend capacity for such technology to be deployed on a broader scale.
The speculation remains, however, merely guesses about whether the new hints included in iTunes 10.1 are related to Apple's announcement tomorrow and what exactly those hints might mean.
Update: It appears that the localization translation evidence may have been first published by Consomac.