Apple Releases iTunes 10.1 With Support for AirPlay and iOS 4.2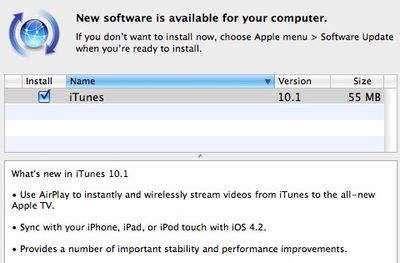 Apple today released
iTunes 10.1
, bringing compatibility with AirPlay and support for iOS 4.2.
What's new in iTunes 10.1
- Use AirPlay to instantly and wirelessly stream videos from iTunes to the all-new Apple TV.
- Sync with your iPhone, iPad, or iPod touch with iOS 4.2.
- Provides a number of important stability and performance improvements.
iTunes 10.1 is available for Mac OS X 10.5 and higher and Windows (32-bit and 64 bit).
There is no sign yet of iOS 4.2 being available for download, and rumors have suggested that it may not come until at least next week.