Gartner: Android Tops iOS in 3Q 2010 Global Smartphone Market Share
During his appearance on Apple's earnings conference call last month, Apple CEO Steve Jobs noted that it has been difficult to estimate the number of new Android devices being sold, pointing to data from research firm Gartner saying that 10 million Android devices were sold during the second quarter of 2010 and saying that we would have to wait for the third quarter results to come in to see whether iPhone or Android came out on top.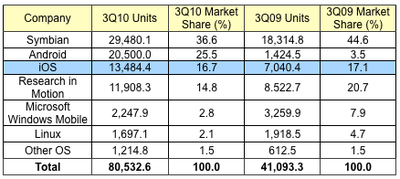 Worldwide Smartphone Sales in 3Q10 in Thousands of Units (Source: Gartner)
Gartner today
released its data
to address that question, revealing a tremendous Android surge that saw the platform leap to second place behind Symbian with over 20 million units sold during the third quarter and grab a 25.5% share of the global smartphone market. Apple slipped slightly to 16.7% of the market from 17.1% in the year-ago quarter, but was able to maintain its third-place position from the year-ago quarter and move up from its fourth-place position last quarter as Research in Motion's BlackBerry platform slipped further, from 20.7% in the third quarter of 2009 to 14.8% in the most recent quarter.
Apple performed extremely well thanks to the iPhone 4. Relationships with multiple CSPs gave Apple wider channel reach internationally, and the strong ecosystem around iTunes and the App Store continued to help Apple dominate. Apple's share of the smartphone market surpassed RIM in North America to put it second behind Android. In Western Europe, iPhone sales doubled year-on-year, making Apple the third-largest vendor behind Nokia and Samsung in the overall devices market.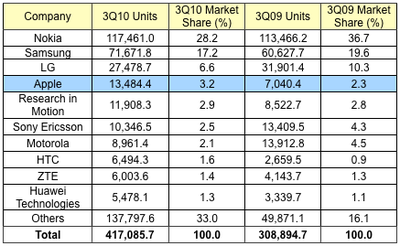 Worldwide Mobile Phone Sales in 3Q10 in Thousands of Units (Source: Gartner)
In overall mobile phone sales, Gartner pegged Apple as the fourth-largest manufacturer with 3.2% of the market, trailing Nokia, Samsung, and LG. That result echoes
similar data
released by IDG late last month and is an improvement from
seventh place
last quarter.
Apple delivered a stellar performance in the third quarter of 2010, selling 13.5 million units. It could have sold more but for its ongoing supply constraints and is now in fourth place worldwide. The iPhone is sold in 89 countries through 166 CSPs. Apple's sales in Europe, Asia and Japan, more than doubled from the third quarter of 2009 and sales in Western Europe delivered Apple the third spot in the regional ranking. While Apple remains focused on consumers, enterprise adoption of the iPhone and iPad has grown.
Gartner's results obviously only address iPhone sales, and some observers believe that a more valid comparison of platform market share should include the iPod touch, and possibly even the iPad. Still, Android's impressive gains that saw units leap more than 14-fold year-over-year demonstrate the momentum behind Google's platform and place it within striking distance of Nokia's Symbian for the top spot in worldwide smartphone platform market share.