Apple Sneaks Up on Motorola in Mobile Phone Sales, Android Surges Past iOS
Research firm Gartner today published a report covering worldwide mobile phone sales to end users for the second quarter of 2010. Gartner's data shows Apple again placing seventh among all mobile phone manufacturers with the same 2.7% market share it held last quarter and up from 1.9% in the year-ago quarter. Motorola's continuing decline in sales dropped it to 2.8% share for the quarter, managing to stay fewer than 400,000 units ahead of Apple in the race for sixth place.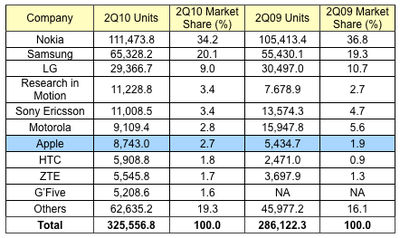 Worldwide Mobile Phone Sales in 2Q10 in Thousands of Units (Source: Gartner)
Noting constraint supplies and of course reduced customer demand ahead of the iPhone 4 launch at the very end of the quarter, Gartner reports that Apple seems well-positioned to ride the iPhone 4 momentum through the remainder of the year.
Apple's sales would have been higher if it had not had to face tight inventory management in preparation for the arrival of the iPhone 4 at the end of the second quarter of 2010. Apple also suffered from some supply constraint on the new device. We expect that a wider global rollout of iPhone 4 will sustain Apple's sales momentum throughout the second half of 2010.
In looking specifically at smartphones, which now make up 19% of total mobile phone sales (a figure that is up 50% year-over-year), Apple captured 14.2% of the market, up slightly from 13.0% in the year-ago quarter but down from 15.3% sequentially.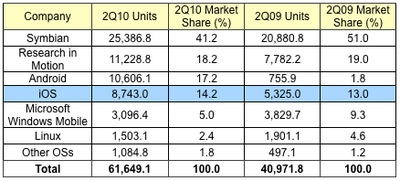 Worldwide Smartphone Sales in 2Q10 in Thousands of Units (Source: Gartner)
The big winner, however, was Google's Android platform, which surged past iOS into third place among smartphone platforms with 17.2% of the market, up from just 1.8% in the year-ago quarter and 9.6% in the first quarter of this year. Long-time market leader Symbian is continuing its slide as it has been unable to keep up with overall industry growth, down to 41.2% but still more than double its closest competitor, Research in Motion. Research in Motion is, however, also slipping a bit, with its 18.2% of the market just barely holding off Android.
Observers will of course be interested in Apple's performance during the third quarter, as it offers the company an opportunity for a full quarter's worth of sales with the new iPhone 4, although continuing supply constraints could hold the company back somewhat from its potential top-end performance.