Hasbro to Launch $30 'My3D' Accessory for iPhone and iPod Touch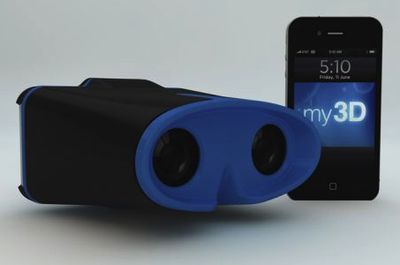 The Associated Press reports
that toy company Hasbro is set to unveil a new device called "My3D" that will allow iPhone and iPod touch users to view 3-D content on their devices.
It promises three-dimensional content that offers a 360-degree experience in gaming, virtual travel experiences and entertainment content. It's aimed at both children and adults.
The device, which resembles a pair of binoculars with a slot in which users insert their iPod or iPhone, will be priced at $30. It will be available starting next spring at stores where Apple's iPhones and iPod Touches are available.
According to the report, Apple assisted Hasbro with development of the My3D accessory, which will require specialized apps to support display of the 3-D content. Hasbro has teamed with Dreamworks Animation, as well as a forthcoming 3-D TV network backed by Discovery, Sony, and IMAX, to produce content for the device.