Apple to Extend iTunes Song Previews to 90 Seconds in U.S.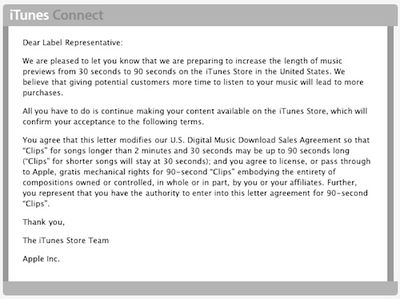 According to
Symphonic Distribution
, Apple has
informed music labels
that it is preparing to extend the length of iTunes Store song previews in the United States to 90 seconds for songs that are at least 2 minutes and 30 seconds long. Shorter songs will continue to offer the current 30-second samples.
We are pleased to let you know that we are preparing to increase the length of music previews from 30 seconds to 90 seconds on the iTunes Store in the United States. We believe that giving potential customers more time to listen to your music will lead to more purchases.
Apple's email notes that by continuing to offer their music on the iTunes Store, labels are indicating their acceptance of the new terms. Consequently, any labels who do not wish to agree with the terms must withdraw their music from the iTunes Store.
CNET had reported just two days before Apple's music-focused media event on September 1st that such a change was coming, but it failed to materialize at the event. In a follow-up article, CNET later discovered that the change had been held up by licensing issues, which appear to have now been resolved.