Apple Discontinues 'Personal Shopping' Service in Retail Stores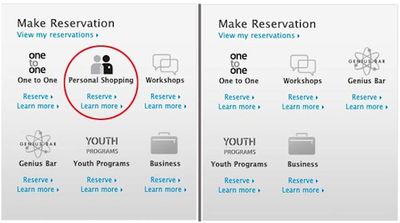 Old (left) and new (right) options for retail store reservations
ifoAppleStore reports
that Apple has quietly discontinued its "Personal Shopping" service that had enabled customers to make appointments at Apple retail stores for one-on-one assistance with testing out and purchasing Apple products.
All references to the service have been erased from the company's Web site, and the Personal Shopping link now re-directs surfers to the main Retail page. Individual stores pages and the Apple Store app have also been updated. According to sources, the change became effective yesterday and stems from the belief that every customer should receive the same attention and amount of service.
Introduced in mid-2007 as part of a broader revamp of its retail store support, training, and purchasing programs, Personal Shopping had allowed customers to schedule appointments up to 14 days in advance and ensure the attention of a retail store Specialist to assist them in a no-commitment arrangement.
Update: As of this writing, Apple's Personal Shopping service remains a snippet link in Google search results for "Apple retail store", despite the fact that the link now simply redirects to the main retail page. This should change as Google re-crawls the site and discovers the revised link structure.