iPhone 4 Sells Out in Apple's Chinese Online Store in Only 10 Hours, Scalpers Blamed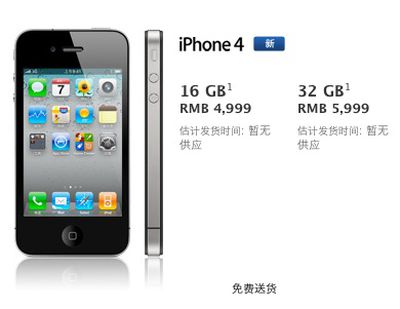 iPhone 4 in Apple's Chinese online store: "No Supply"
Earlier this week, Apple
debuted
its Chinese online store, offering consumers in that country the ability to order the full range of Apple products directly from the company.
M.I.C gadget reports
, however, that the store's supplies of the iPhone 4
completely sold out
within 10 hours of the store going live, with Apple refusing to even offer shipping estimates or permitting customers to place future orders.
As with recent incidents in Apple's retail stores in China, scalpers are being blamed for rapid depletion of Apple's online store stocks. With Apple employing more stringent standards for in-store iPhone 4 sales, including reservations, purchase limits and ID requirements, the new online store appears to be scalpers' latest target.
Here's what a scalper tells us,
"You will not have a chance to buy one. We have an auto-refresh system to place order, and we are watching it for 24 hours, can you do this?"
Demand from legitimate customers appears to remain very high, but they continue to struggle to compete against scalpers working to soak up the entire country's supply as quickly as it can be released.
As far as we know, there's a high demand for iPhone 4 in China, especially Beijing and Shanghai. The people here do not mind about the price, they just wish to buy one and tell their friends that they have got an iPhone 4. So, consumers no longer need to buy an iPhone 4 through China Unicom, the only telecom operator offering Apple's iPhone in China, they just need to learn how to act faster than those irritating scalpers and place an order on China online Apple Store before a scalper does.
The iPhone 4's quick disappearance from the Chinese online store comes after all iPhone models became unavailable in Apple's Hong Kong online store. Hong Kong was a popular source for grey market iPhones before the iPhone launched in China and has continued to remain a profitable option for smugglers due to lower taxation and thus lower prices in Hong Kong coupled with continued tight supplies in China.