Valve Releases 'Left 4 Dead' for Mac OS X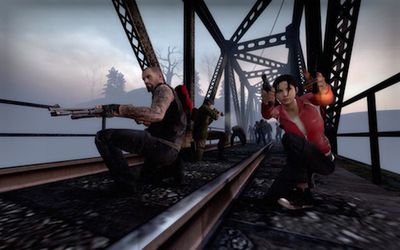 Valve Software today
announced
the release of an update to
Left 4 Dead
that brings Mac support to the popular game, which now joins
Left 4 Dead 2
on the Mac following the sequel's release earlier this month.
Valve had noted when it announced the Left 4 Dead 2 launch date that the original game was seeing a few delays but that they hoped it would be available before Halloween, a target the company met with today's release.
As a promotion coinciding with the Mac release, Valve is offering 50% discounts on several Left 4 Dead packages: single license ($9.99), four-pack ($29.99), and Left 4 Dead/Left 4 Dead 2 bundle ($14.99). As with all of Valve's other Mac releases, the Steam Play functionality allows users to purchase each game only once, yet still play them on multiple platforms.