Shipping Estimates for Entry-Level 11-Inch MacBook Air Slip Slightly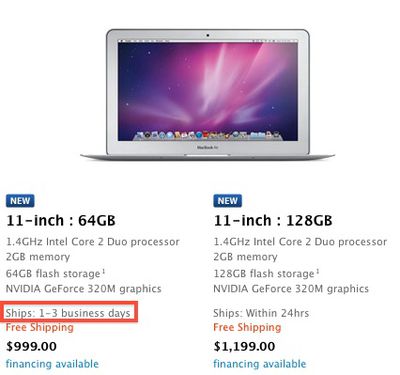 Supplies of Apple's new 11-inch MacBook Air seem to be tightening just a week after the product's launch, with Apple's online stores around the world showing shipping estimates for the entry-level model slipping to 1-3 business days. All other models (11-inch and 13-inch) remain at "within 24 hours" for stock configurations. In addition, a sampling of Apple's retail stores are similarly showing no availability for reservations of the product.
The reduced availability suggests that demand for Apple's smallest notebook computer, with an entry-level price of $999, is running high and that the company has run through much of its launch supply.