Speculation of an Apple Acquisition Drives Sony's Stock Price Up
Reuters reports that Sony Corp's stock rose nearly 3 percent on Tuesday due to reports of a possible Apple acquisition of Sony. Speculation about Apple making a major acquisition has been in full force since Apple's latest financial results revealed a cash stockpile of $51 billion. Steve Jobs also hinted that he anticipates using the cash for strategic opportunities in the future:
"We strongly believe that one or more very strategic opportunities may come along, that we can take, that we're in a unique position to take advantage of because of our strong cash position"
Those comments, of course, resulted in analysts generating a long list of potential acquisition targets for Apple including EA, Netflix, Disney, Facebook, Adobe and even Sony. As far as we can tell, there has been no credible source pinpointing any actual intentions from Apple surrounding these companies.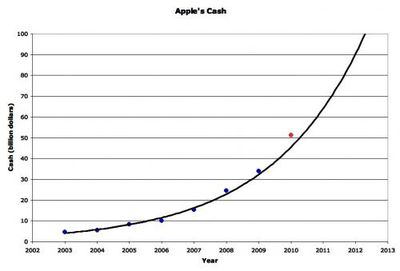 As Apple's cash position grows, there will certainly be more speculation about possible large acquisition targets. One
analyst
even projects that at their current revenue growth rate, they will hit nearly $90 billion in cash reserves by 2012.