Mac OS X Lion Set for Summer 2011 Debut, Mac App Store to Launch Within 90 Days

As expected, the next version of Mac OS X was
previewed
at today's Back to the Mac event, showing new features inspired by iOS on the iPad, such as multi-touch gestures, the App Store, app home screens, full-screen apps, auto-saving capabilities, and how apps resume when launched.
Noting that over 7 billion apps have already been downloaded from the App Store, Jobs announced that the Mac will also have its own Mac App Store. It will feature one-click downloads, free and paid apps, and the same 70/30 revenue split currently applied to apps in the iOS App Store. Apps sold will be licensed for use on all the personal Macs a user owns. The new Launchpad in Lion will be a home screen for all applications.
"Lion brings many of the best ideas from iPad back to the Mac, plus some fresh new ones like Mission Control that Mac users will really like," said Steve Jobs, Apple's CEO. "Lion has a ton of new features, and we hope the few we had time to preview today will give users a good idea of where we are headed."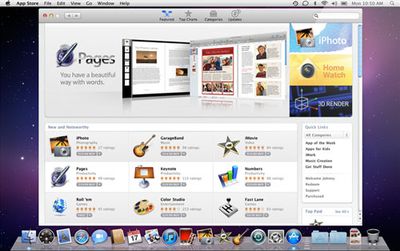 The Mac App Store will look similar to the App Store on the iPad, featuring app descriptions, screen shots, and user reviews. The Launch Pad will display all applications on virtual pages, much like the home screen pages on iOS devices, including the ability to organize applications into folders.
In Lion, applications can be viewed in full-screen mode and navigated using multi-touch gestures to switch between open applications. The Dashboard feature will be accessible on a virtual page to the left of the current screen in the same way the search screen is accessible in iOS. A new Expose feature called Mission Control will show all windows for all open apps.
Lion will be released in Summer 2011. The Mac App Store will open in 90 days and developers can submit apps for inclusion beginning in November.