iLife '11, MacBook Air, and Possible New Product Revealed by Apple [Updated x2]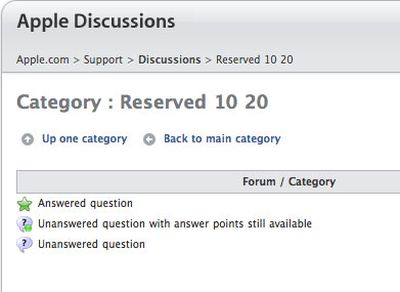 Some clever
exploring
of Apple's discussion forum has revealed several new products that are believed to be part of today's announcements. Spidersweb.pl found that by typing in certain category numbers manually, you could find these placeholder categories:
Category 277 - Reserved 10 20
Category 278 - iMovie '11
Category 279 - GarageBand '11
Category 280 - iPhoto '11
Category 281 - MBA (Need official name)
iLife '11 was revealed as well as one simply labeled "Reserved 10 20" which could represent a new iLife application. The MacBook Air appears to have also gotten a new category for unclear reasons. A MacBook Air category already exists.


Update: Apple has now removed the product names from the placeholder pages, replacing them with generic descriptions of "a", "aa", "ab", "ac", and "ad".
Update 2: The noted discussion forums have now been entirely removed from Apple's site.