More Claimed MacBook Air Specs: 8-10 Hour Battery, NVIDIA 320M, Upgradeable RAM and SSD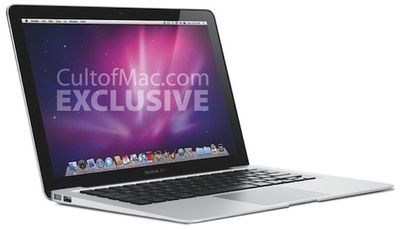 Cult of Mac's mockup of next-generation MacBook Air
Cult of Mac weighs in
with claims from a new source regarding the new MacBook Air that has been receiving considerable attention in the days leading up to Apple's media event on Wednesday. The new report corroborates many of the claims coming from other sources, but also offers a few new details on what we might expect in the new machine.
- Battery life rumored to be 8-10 hours, up from 5 in the current MacBook Air.
- Thinner and lighter form factor with fewer curves.
- Two USB ports, SD card slot, straight-style MagSafe, Mini DisplayPort.
- Base model with 2 GB of RAM, but upgradeable. SSD also upgradeable.
- NVIDIA GeForce 320M graphics.
- Unconfirmed CPU claims of 2.1 GHz and 2.4 GHz options, but no claim of a specific processor family is offered.
- Suggestion of $999 for 11.6-inch model and $1100 for the 13.3-inch model, but Cult of Mac believes something like $1100/$1400 to be more likely.