Research Firm Raises iPad Sales Projections Through 2012 to Over 120 Million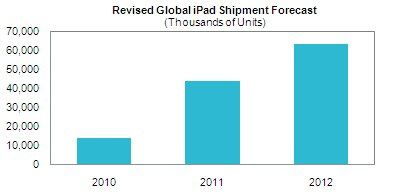 Despite Apple reporting lower-than-expected iPad sales in its quarterly earnings release yesterday, research firm iSuppli has once again
raised its projections
for iPad sales through the end of 2012 to over 120 million, up over 20 million from its
July projections
.
iSuppli has increased its iPad sales estimates from 12.9 million to 13.8 million for 2010, from 36.5 million to 43.7 million for 2011, and from 50.4 million to 63.3 million for 2012.
"In its previous iPad forecasts, iSuppli noted that the only constraint on shipment growth now is production - and not demand," said Rhoda Alexander, director of monitor research for iSuppli. "The only factor limiting production is the availability of key iPad components, such as the Field Fringe Switching (FFS) LCD panels, projected capacitive touch screens and NAND flash. Despite ongoing yield issues, Apple's suppliers have steadily increased monthly production to meet Apple's demand. Production rates are now on target to meet the expected strong fourth-quarter sales."
Along with the easing of supply constraints, the report points to faster-than-expected expansion of retail distribution and opportunities in education as positive factors for the iPad's sales future.
Apple yesterday announced sales of 4.19 million iPads in the June-September quarter, well ahead of the 3.27 million iPads sold in the previous quarter but below the nearly 5 million units that had been expected by Wall Street analysts.