AT&T to Help Bring iPad to Business Customers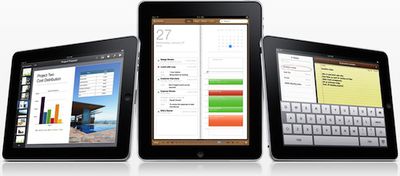 Just a day after it was announced that AT&T would
begin selling the iPad
in its retail stores, the carrier has
announced
an initiative to sell the device directly to business customers. The program will see the carrier offering the three Wi-Fi + 3G iPad models along with data packages specifically targeting business customers.
While Apple has featured the iPad's utility in business settings, the new program from AT&T introduces the device into the carrier's existing business relationships it is using to promote custom mobile solutions.
"iPad is a great fit for our enterprise customers across a wide range of industries who are looking for ways to increase business productivity and offer greater flexibility," said Michael Antieri, President, Advanced Enterprise Mobility Solutions, AT&T Business Solutions. "This new offer further strengthens AT&T's commitment to provide businesses with the tools they need to accelerate mobility-led productivity."
AT&T CEO Randall Stephenson noted back in June that he viewed the iPad as a significant opportunity for businesses to "think differently about mobilizing all of the applications that you see in business." At the time, he pointed to strong interest from the carrier's business customers, but it is only now that Apple has opened up the iPad to additional distribution channels like AT&T that the carrier will be able to work directly with its customers to get the iPad into their hands.