Apple to Host 'Back to the Mac' Media Event on October 20th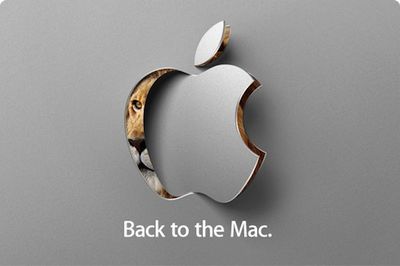 Engadget reports
that Apple has issued invitations for a special media event to be held next Wednesday, October 20th at 10:00 AM Pacific Time. The invitation for the event, which is to be held at the company's campus in Cupertino, California, carries the tagline "Back to the Mac".
The invitation also contains an image of what appears to be a lion peeking out from behind the Apple logo, hinting at discussion of Mac OS X 10.7. "Lion" has been one of the most commonly-suggested "big cat" names for the next-generation operating system.
As shown in our Buyer's Guide, much of Apple's notebook line with the exception of the entry-level MacBook is due for a refresh, and Apple has refreshed at least a portion of its notebook line each October or November for the last several years. Apple's desktop offerings have all been updated relatively recently, suggesting that the company's media event may focus on notebooks if new hardware is included on the agenda.