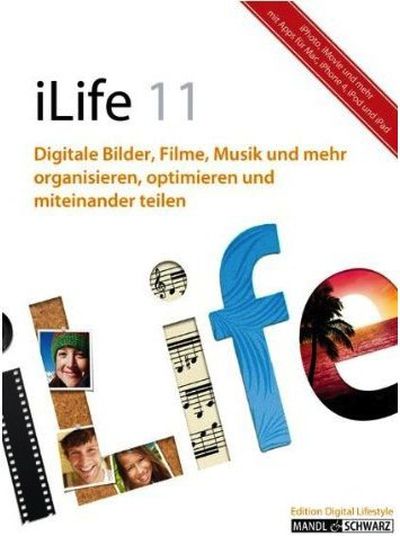 9 to 5 Mac points
to a
book listing
[
Google translation
] on Amazon's German site discussing the as-yet-unreleased iLife '11 suite.
The cover artwork and Amazon description for the new book, which is set to launch in December, appear to reveal several features of the next revision of iLife, including the possibility of additional iOS apps beyond the current iMovie offering. In particular, a red ribbon graphic across the top right corner of the book's cover reads as follows: "iPhoto, iMovie and more with Apps for Mac, iPhone 4, iPod and iPad".
Additional text as automatically translated in the book's description claims a number of other features, including a 64-bit codebase, iWeb revamp, and the disappearance of iDVD.
ILife 11 may be from the content is completely revised and written in 64 bits. Improvements are mainly in iPhoto and the integration of social networks. iWeb is completely rewritten, and iDVD will disappear, but there are also still a new application. In this book the reader learns all about the new multimedia suite. New features, new applications, new applications. What it does, what changes and how do I get the finest results. want to do for all amateur photographers and videographers, video enthusiasts and all those rich movies and photos and DVDs, web and social networks have to do.
We believe, however, that the entry represents nothing more than placeholder text and images for a book set to launch whenever Apple sees fit to launch the next iteration of iLife, and we do not believe that it represents any particular inside information.
In general, such book "leaks" are not infrequent and have not been proven to be reliable sources of information. But more specifically, the book's description appears to be almost a point-by-point repetition of claims made by French site Mac4Ever back in July. While the claims may turn out to be true, we believe that the book's author or publisher is simply using circulating rumors as placeholder text for a book in preparation and which will be fleshed out once Apple publicly releases the next version of iLife.
Two other books listed as shipping in November are also available on Amazon's German site: iPhoto '11 and iMovie '11. We similarly believe that these are also merely placeholder entries awaiting Apple's actual release.
Consequently, we are publishing this article on Page 2 for interest and discussion.