AirPlay Video Streaming to iPad Coming? Future Cloud Video?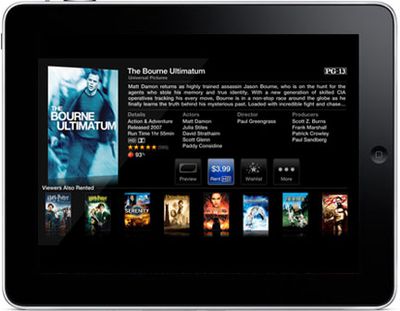 Mockup
A couple of AppleTV firmware findings has raised some interesting possibilities with regard to Apple's new Apple TV and AirPlay streaming service. With the news that AppleTV was iOS based, everyone quickly jumped to the natural prediction that we will be able to run iOS apps on the Apple TV. But the converse to that is also true. Since the Apple TV is just an iOS device, users should be able to eventually run the Apple TV experience (called Lowtide.app) on an iPad. It seems Apple is already putting these pieces in place.
TUAW notes the Apple TV interface application has settings that indicate compatibility with the iPad as a hidden service.
Because of this setting, Lowtide would probably be run as silent service, presenting its interface only when its features were requested. The iPad's camera connection kit software works very much in this way, opening only when a DCIM camera is attached. The iPad would likely respond to streaming Airplay requests by opening Lowtide, if a future version of its OS included the application.
This means that you may eventually be able to start watching videos on your Apple TV or iTunes, and then finish watching it on your iPad. The Apple TV interface also allows you do to something new on iOS devices -- stream content straight from the iTunes Store. This streaming-only requirement of the new Apple TV was one of the big changes over the previous model. And given all the talk of Apple moving into cloud computing, it seems that this could naturally extend into remote wireless (3G) streaming. TUAW notes that the full Lowtide.app can't run on existing iOS devices due to missing frameworks, but one user has managed to install the Apple TV's airtunesd (AirTunes Daemon) component onto his iPhone 4, allowing him to stream audio to his phone from Airfoil or iTunes.