Apple Most-Covered Tech Company in Mainstream Media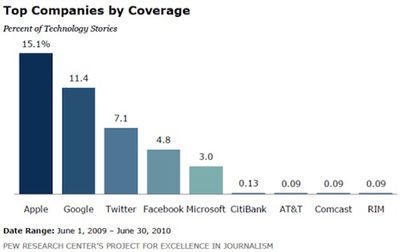 The New York Times points
to a new
research report
from the Pew Research Center's Project for Excellence in Journalism which finds that Apple was the
most-discussed technology company
in mainstream media between June 2009 and June 2010, serving as the focus of over 15% of the technology articles and stories appearing in the surveyed media outlets during that time.
In the battle among the tech titans, Apple Inc. won the title in the last year for press appeal. The 34- year-old company attracted more coverage from the mainstream press than any other technology company - and the bulk of it was positive. Its popular devices and orchestrated PR strategy helped it even outpace Google Inc.
From June 2009 through June 2010, 15% percent of the technology stories focused primarily on Apple, versus 11% about Google.
Only 3% of technology articles focused on longtime Apple rival Microsoft.
When looking at individual news topics, Apple also scored well, with the iPhone being the #2 most frequent topic for news stories (6.4%) and the iPad checking in at #4 (4.6%). News about Apple CEO Steve Jobs and the App Store also clocked in on the study's radar at approximately 1.5% each. Texting while driving topped the list of discussion topics during the study period with 8.5% of the stories focusing on the issue.

The survey monitored the most highly-visible portions of
52 news outlets
during the study period, including the front pages of 11 newspapers ranging from national dailies to small-town newspapers, three cable news TV channels, morning and evening news shows on three TV networks, 12 major news websites, and 10 news and talk radio programs.