Steve Jobs Confirms New Apple TV Orders On Schedule for September Delivery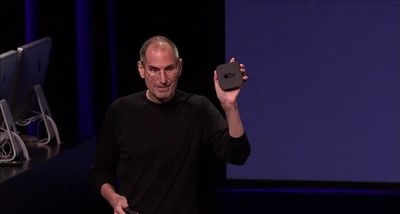 A significant amount of attention has been focused on orders for the new Apple TV today after it was
revealed
that Apple had contacted some customers to notify them that their expedited shipping fees were being refunded due to an unspecified "delay". While some sites took the information to mean that those who ordered the new Apple TV and have been expecting on-time shipping previously announced for late this month could be in for delays of up several weeks, that conclusion seemed at best premature to us.
One MacRumors reader took the opportunity to email Steve Jobs about his order status and question whether shipping can be expected in the near future:
Any update on shipment of your hobby project? Looks like it will have to ship early next week for delivery before the end of this month.
The reader claims that Jobs responded with a simple answer:
Yep.
Sent from my iPhone
While Jobs' answer could be considered rather ambiguous, it certainly does appear that he is confirming delivery of the initial round of new Apple TV orders by the end of the month as had been originally expected.
Despite the fact that it is trivial to fabricate legitimate-looking emails as evidenced by some recent cases, our examination of the full headers of the email claimed to be from Jobs and the circumstances of this exchange lead us to believe that the messages are authentic.