'Filemaker Go' Updated With PDF Creation, Sharing and Photo Features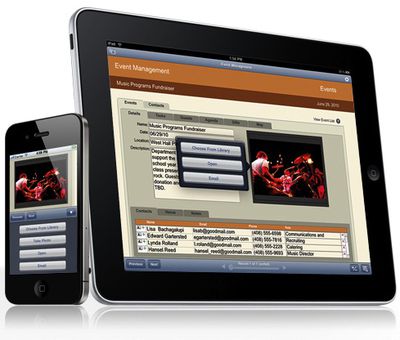 Apple subsidiary Filemaker today
announced
substantial updates to its
Filemaker Go
and
Filemaker Go for iPad
applications in the App Store, adding a number of
new features
that had been highly requested by users.
Several of the primary enhancements are related to new tools for enhanced sharing possibilities. Users can now create PDFs of their databases directly within Filemaker Go and store them on their mobile devices or email them to others. The new feature offers simple creation of reports and invoices while on the go. Users can now also save complete copies of their databases and share them with others via email, eliminating the need to sync with a computer for direct database transfer.
The new updates also bring tools for working with photos and other media:
The update also delivers new ways to work more efficiently with photos and other media and information. FileMaker Go users can capture photos on an iPhone, or take photos that are already in the photo library of an iPhone or iPad, and insert them directly into a FileMaker Go database. Photos stored in a database can be emailed out later using FileMaker Go.
Additional enhancements include the ability to import records from other databases using script steps and support for a newly-enhanced Filemaker URL protocol that developers of other iOS applications can use to interface with Filemaker Go.
Filemaker Go for iPhone and iPod touch is priced at $19.99 while Filemaker Go for iPad is priced at $39.99. The new updates are of course free for existing users.