Netflix Set to Launch Streaming Service in Canada as Revamped Apple TV Nears Debut [Updated]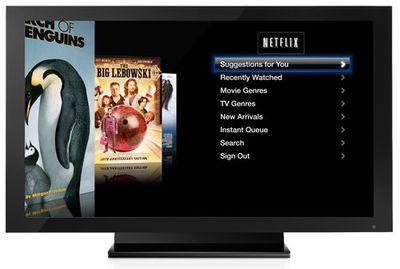 The Hollywood Reporter claims
that DVDs-by-mail and streaming service Netflix is set to make its first foray outside the United States tomorrow by announcing that it will bring streaming video content to Canada.
Netflix co-founder and CEO Reed Hastings will be in Toronto Wednesday to launch an online video subscription service that allows Canadians to download their favorite flicks and TV shows for a monthly fee.
Netflix entering the Canadian market, its first foreign expansion, has local video distribution players girding for cutthroat competition as still more Internet content-streaming behemoths like Apple TV and Boxee get set to launch north of the border.
The service will initially be streaming-only, although the DVDs-by-mail service could obviously be added in the future.
Earlier this month, Apple introduced a revamped Apple TV device that supports Netflix streaming, although the device is not scheduled to begin shipping until around the end of this month, with new orders currently seeing shipping estimates of 2-3 weeks. We will likely have to wait until Netflix's official announcement tomorrow for confirmation, but it seems likely that the new Apple TV will support Netflix in Canada as soon as the service launches there.
Update: Netflix has officially announced the streaming-only service for Canada, launching immediately at a price point of $7.99 per month. The company also announced that Apple's iPad, iPhone, and iPod touch will be compatible with the service and that the new Apple TV will also offer Netflix streaming once the device becomes available.