Following Apple's release of its App Store review guidelines last week, Sean Kovacs, the developer of GV Mobile, indicated that he would resubmit his app to Apple for approval. GV Mobile, an app that offers native access on the iPhone to the search company's free Google Voice service, had originally been released in the App Store in early 2009 but was then removed by Apple in the summer of 2009 since it "duplicated features that come with the iPhone." Kovacs re-submitted the app, now dubbed GV Mobile+, to Apple earlier this week in light of the recently-published guidelines.
We have been able to preview the build submitted to Apple. Those who have used the version previously available in the App Store will find GV Mobile+ much more polished than before. Those with jailbroken iPhones who purchased GV Mobile through Cydia will find the new app's interface familiar and see some new features as well.
Google Voice is a free service that provides users with a phone number, advanced call management features, voicemail transcription, and free text messaging. Contrary to what those unfamiliar with the service might think, it is not a VoIP service. Google provides an overview of Google Voice's capabilities in a number of demo videos on a special Features page.
GV Mobile+ requires that a user have a Google Voice account before the app can be used. When first opening the app, you're prompted to enter your Google Voice account credentials. Once this is complete, you can refine how the app works in the Settings panel, including enabling and disabling the service's call screening feature, selecting phones to which incoming calls should be forwarded, how and when the app syncs with your Google Voice account online, and more.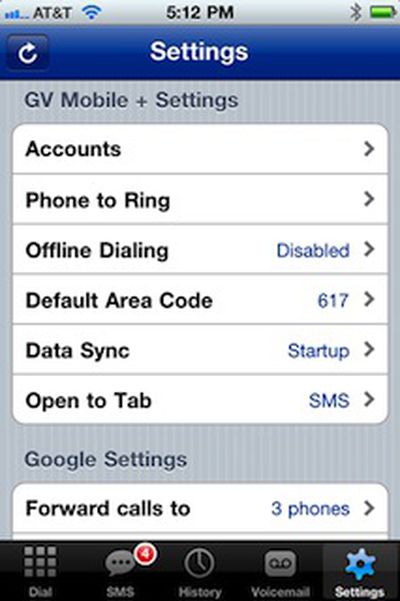 Phone calls are made through the Dial pane, which presents a standard virtual dial pad. The app automatically pulls in the current active group from the iPhone's Contacts app, making it easy to select an existing contact to call. Calls can also be dialed directly using the virtual dial pad. There's also a Favorites tab here where frequently-called contacts can be added for quicker access.


Initiating a call results in the receipt of an incoming call, which is a normal feature of the Google Voice service since Google's servers initiate the call online and then connect the call to your iPhone's number.
If the Offline Dialing feature is enabled in the app's settings, GV Mobile+ will contact Google Voice's servers directly by initiating a call to them immediately, and you'll hear dial tones as the app manages the entry of the phone number to be dialed "manually" as you wait, eventually connecting the call. While it may sound cumbersome, this feature is useful if you do not have an internet connection or only a weak connection.

Incoming calls to your Google Voice number ring through to your iPhone as any other call does as long as you have selected this option in your Google Voice account settings. You answer these calls using the iPhone's Phone app.
Outgoing calls made with GV Mobile+ present your Google Voice number in the caller ID function on the receiving end. The same goes for text messages sent through GV Mobile+. The SMS pane shows SMS history and the new SMS dialogue and existing SMS conversations appear much as they do in the iPhone's Messages app.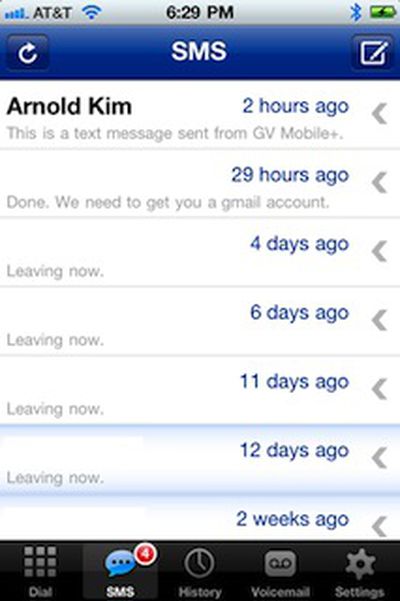 For those on a limited messaging plan with AT&T or another provider, Google Voice can be a compelling alternative with its free, unlimited text messaging, which is easy to use in GV Mobile+. The only limitation with the Google Voice service itself in this area is that the service cannot send or receive MMS messages.
The next pane in GV Mobile+, History, acts essentially like the Recents pane in the iPhone's Phone app, showing all recent incoming and outgoing calls. The Voicemail pane shows all voicemails received and these can be listened to through the iPhone's speakerphone, the earpiece speaker, or wired headphones. The "Trans." button in the lower right corner will show Google's automatic transcription of the voicemail to text. While not always accurate, this service can be useful when listening to a voicemail is not feasible.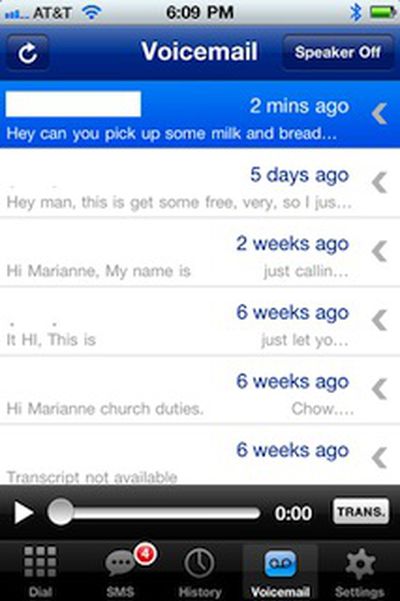 While a badge showing the number of new items is displayed on the app's icon on the home screen, it does not send push notifications, though Kovacs promises this is coming.
Overall, GV Mobile+ offers a complete and convenient native interface for Google Voice. Once approved, GV Mobile+ will cost $2.99. Those who previously purchased the GV Mobile app when it was available in the App Store in 2009 will have an opportunity to get the new app for free during a short window of time after it has been in the App Store for about one week - this window of time will be announced by Kovacs through his Twitter account. Kovacs estimates that the approval time will take seven to thirteen days, putting GV Mobile+ in the App Store sometime next week.