Select Developers Apparently Already Testing iOS 4.x for iPad [Update: No]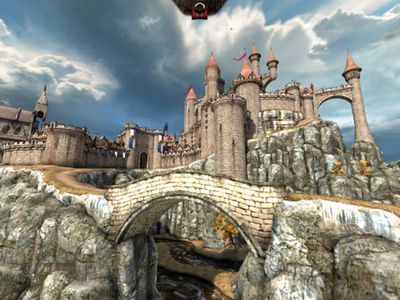 Over the weekend, Epic Games released an update to its
Epic Citadel
demo app showing off the company's Unreal Engine 3. The demo had been featured during Apple's September 1st media event as an example of how the iPhone can handle generation of rich textures and imagery in gaming titles. The demo
appeared in the App Store
soon after the event, offering users the ability to play around with the demo themselves.
One of the bullet points in the "What's New" section of this weekend's update stands out, however, as it addresses iOS 4 for the iPad, an operating system that has not yet been released to the public or even pushed to Apple's general iOS Developer Program.
Fixed performance issues on iPad devices running iOS 4 or later.
Apple CEO Steve Jobs had announced at the media event that iOS 4 would finally make its debut on the iPad in November with the public launch of iOS 4.2.
While Epic may have received some preferential access to early iOS 4 builds for the iPad to support its efforts to demo its Unreal Engine 3 for iOS at the media event, it is still interesting to note that the operating system is making its way into the hands of at least one developer ahead of those involved in the general developer program.
Apple has partnered with major App Store developers in the past to show off new iOS features before they are opened up to the developer community at-large, but Epic seems to have an even more substantial head-start than usual on iOS 4 for iPad.
With iOS 4.1 making its way to the iPhone and iPod touch just last week, Apple has now paved the way to begin full developer testing of a unified iOS 4.2 for iPad, iPhone, and iPod touch. Consequently, many developers are hoping that they will be able to get their hands on testing builds of the new operating system in the near future.
Update: Epic's Mark Rein has clarified that the mention of iOS on iPad in the App Store update description was simply a reference to an "anticipated problem" for the iPad discovered on the new fourth-generation iPod touch.