Denon Set to Roll Out AirPlay on Existing Home Stereo Equipment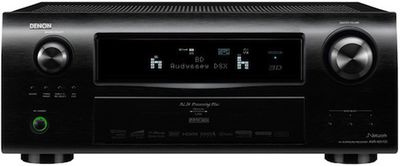 Engadget reports
that rolling out
AirPlay support
for some home stereo equipment vendors may be as simple as deploying a firmware update for compatible equipment already on the market. The music portion of AirPlay allows users to wirelessly stream music, including details such as song titles, artists, album names, elapsed and remaining time, and album artwork, to compatible devices around the home. The technology will also be utilized in iOS 4.2 to allow users to push video and photo content from their iOS devices to other compatible devices such as the Apple TV.
Denon's admittedly pricey AVR-4311CI -- which was introduced in late April -- may very well end up being the first major product to gain iTunes AirPlay compatibility retroactively. Yeah, retroactively. According to an updated product listing, the AVR will see a "planned upgrade" in the fall of 2010 that will "provide Apple iTunes AirPlay compatibility [that will let you] stream your favorite music to the AVR-4311CI."
The Denon AVR-4311CI receiver retails for $1999 and offers an array of features including existing networking support for Rhapsody, Napster, and Pandora streaming, as well as access to PC-based photo, video, and music content. From the updated information on Denon's site, it seems that the hardware is already in place to support Apple's AirPlay streaming, with only a firmware update of some sort required to flip the switch on it.