Fourth-Generation iPod Shuffle Unboxing and Comparison Photos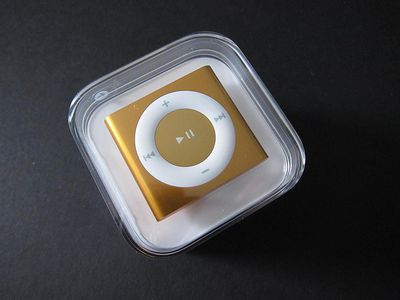 iLounge has received
a new fourth-generation iPod shuffle and posted a
photo gallery
documenting the unboxing as well as showing a comparison to the similar second-generation iPod shuffle and other iPod models.

After moving navigation buttons to the headphone cord in the third-generation model, Apple has gone back to its earlier button design, although it has still been able to significantly reduce the size of the device compared to the second-generation version. Like the second-generation version, the new iPod shuffle also offers a clip on the back to provide customers with significant flexibility in attaching the device to their clothing while in use.

iPod shuffle generations in order, counter-clockwise from top left
The new iPod shuffle offers 2 GB of storage for $49 and is available in five colors.