Confusion Over Facebook's Brief Appearance in Ping for iTunes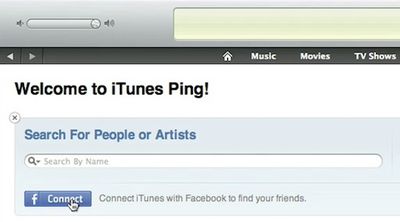 Screenshot from Follow Music and People with Ping video tutorial
With yesterday's release of
iTunes 10
, Apple also deployed a new music-focused social network feature known as
Ping
. When it initially launched yesterday, users creating their profiles were presented with an option to use Facebook Connect to find friends who had already created their own Ping profiles. It is unclear, however, whether the feature was functioning properly, as a number of users reported that searches yielded no results.


Screenshot from Ping overview page
The Facebook Connect feature now seems to have disappeared from Ping, with many users not even realizing it was ever there. The flurry of activity has generated some confusion in the Apple media, especially after
All Things Digital
chatted with Steve Jobs
about the lack of Facebook integration before people realized that the functionality was in fact partially present.
And Facebook is nowhere on Ping too. Currently, there is no linking, sharing or participation of any kind with Facebook - or Twitter or MySpace either - on Ping, which will work only on the iTunes software on computers, iPhones and iPods.
When I asked Jobs about that, he said Apple had indeed held talks with Facebook about a variety of unspecified partnerships related to Ping, but the discussions had gone nowhere.
The reason, according to Jobs: Facebook wanted "onerous terms that we could not agree to."
Despite Jobs' claim that discussions with Facebook regarding Ping were unproductive, ample evidence of the integration is present in the form of the earlier Facebook Connect option in the service itself, as well as mentions and screenshots of it in Apple's promotional materials for Ping. Consequently, Apple observers are left scratching their heads until (or unless) Apple makes a statement about the incident.