iTunes Store to Move to Web, Gain Increased Social Features?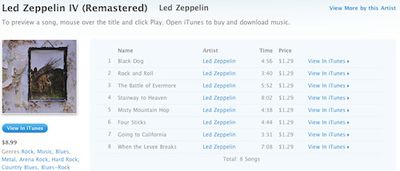 All Things Digital reports
that any updates to Apple's iTunes Store set to debut at next Wednesday's
media event
may be likely to revolve more around creating a social, Web-based environment than a true cloud-based service.
Apple plays its cards close to the vest even with the music labels it works with, so the people I've talked to are making informed guesses. That said, music sources tell me they're expecting a lightweight, Web-based version of the iTunes store. The new version would be designed to sync up easily with the rest of the Internet and make it much easier for customers to share their musical tastes (but not songs) with friends.
A true Web-based iTunes experience would expand upon the iTunes Preview feature launched by Apple late last year that allows users to browse and listen to samples from the iTunes Store music library directly in their browser, requiring the iTunes application only if they wish to purchase content.
Apple has reportedly not yet approached music labels about new licensing deals that would presumably be required to launch a true cloud-based streaming service, although the company could attempt to try its luck at launching such a service without the consent of the labels, hoping to argue that such functionality is covered by existing deals and hammering out the details later.
Alternatively, Apple could deploy a system for wireless syncing of content among devices that would remain within the bounds of current licensing contracts but simplify the process users must currently use to make sure desired content gets moved onto each of their authorized computers and devices.