Apple Deploys Web-Based 'iTunes Preview' Content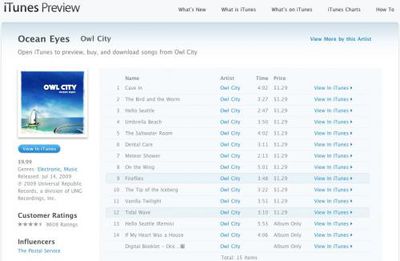 Macworld reports
that Apple has quietly rolled out "iTunes Preview", a Web-based listing of iTunes Store content that allows users to browse the store's offerings without the need for an iTunes installed on their devices. While iTunes is still required for listening to song samples and purchasing content, the move to Web-based listings provides a convenient means for users to share links to iTunes content with others without depending on iTunes for viewing purposes.
Apple has quietly launched iTunes Preview, a feature that shows what music is available on iTunes from the convenience of your Web browser. Yes, even Internet Explorer 6. iTunes Preview lets anyone browse through the entire iTunes catalog's worth of music, info, and user reviews for any region.
The report notes that the feature is currently available only for music content, and it is unclear if or when it will be extended to additional iTunes Store offerings.
Apple is currently offering access to the iTunes Preview in several locations on its iTunes pages, including a feature near the bottom of its "What's On" page and through its "iTunes Charts" page. Links copied directly from the iTunes Store will also reportedly generate corresponding iTunes Preview pages on systems where iTunes is not installed.