iPad Expected to Maintain Position as Tablet Market Leader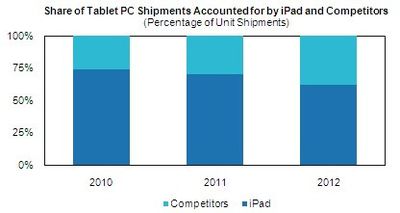 Research firm iSuppli today released a
report
detailing its predictions for how the nascent tablet market will shake out over the next several years, claiming that Apple will maintain its dominant share of the market.
According to iSuppli, Apple will command 74.1% of the tablet market for 2010, a market that includes long-standing "PC-style" tablets and slate styles similar to the iPad. And even though competitors will soon be launching a number of tablet devices seeking to compete directly against the iPad in form factor and functionality, Apple is predicted to maintain its leadership position with 70.4% of the market in 2011 and 61.7% in 2012.
"Although the iPad has been on the market for only a few months, powerful interests throughout the technology business are devoting enormous resources to challenge and topple Apple's domination in this fast-growing marketplace," said Rhoda Alexander, director of monitor research at iSuppli. "However, if recent history is any lesson, it will take some time for these companies to get their products to market, longer for them to offer necessary software support and infrastructure, and an even lengthier period to begin to rival the overall user experience Apple is able to deliver."
Those strong market share numbers, should they bear out, are expected to come against a backdrop of exploding tablet sales. iSuppli last month predicted iPad sales of nearly 13 million this year, surging to over 50 million in 2012 for a total of nearly 100 million iPads sold by the end of that year.
Acer chairman JT Wang reportedly claimed recently that Apple's share of the tablet market will eventually stabilize at 20-30%, and while that range would represent a significant decrease from today's levels, it would of course still be a very substantial portion of the overall market.