Axon Logic Debuts $750 Mac OS X-Capable Tablet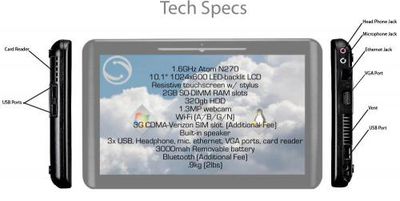 CrunchGear reports
on the new
Axon Haptic
, an $800 tablet device carrying a 10-inch touch screen and capable of running not only both Windows and Linux, but also any Darwin-based operating system, including Mac OS X.
We give you the choice of easily choosing which OS you want to boot up to. Whether you want Linux one day, or Windows the next. Of course, we suspect that you'll be using Darwin the most. We've installed Darwin (kernel and system specific kexts) on a hidden EFI partition. That means you can effortlessly install your favorite Darwin OS, such as Pure Darwin.
The site is careful to note that while Mac OS X Snow Leopard is a Darwin OS, installation of the operating system on non-Apple hardware is a violation of the end user license agreement. It is obvious, however, that the company is targeting users who wish to run Mac OS X while attempting to absolve itself of any liability should Apple decide to take action against the company.
The two-pound Axon Haptic includes a 10.1-inch resistive touch screen running at 1024 x 600 pixels and supporting both stylus and finger input, and is powered by a 1.6 GHz Atom processor with 2 GB of RAM and a 320 GB hard drive. Also included are a 1.3-megapixel webcam, Wi-Fi, and a series of USB, Ethernet, and VGA ports, as well as a card reader. Support for a Verizon 3G data SIM card and Bluetooth is available as upgrades.
Pre-order pricing is currently set at $750 for single base units, with discounts available for customers ordering multiple units. CrunchGear notes that pricing will increase to $800 once the device launches, although there seems to be no word yet on when units might begin shipping.
Comparisons to the Modbook from Axiotron are certainly to be expected, although those systems are converted directly from Apple notebooks and carry a starting price tag of $1849, or $899 if the customer supplies the notebook. It also remains to be seen how the Haptic will perform given its simplistic resistive touch screen and a lack of Apple-supported modifications to assist with converting Mac OS X to a touch-friendly environment.