New 12-Core Mac Pros Now Available for Order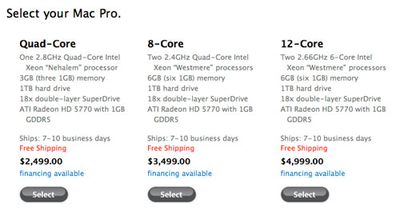 As
announced in July
, Apple has started
accepting orders
for the new 12-core Mac Pros. The Mac Pro configurations now come in 3 different base configurations:
$2499 - (Quad Core) One 2.8GHz Quad-Core Nehalem Processor
$3499 - (8-Core) Two 2.4GHz Quad Core Westmere Processors
$4999 - (12-Core) Two 2.66GHz 6-Core Westmere Processors
Each configuration can be further customized with faster processors, SSD drive options and upgraded ATI Radeon graphics cards. All the changes were previously detailed in the press release of the announcement:
At the heart of the new Mac Pros performance are next generation quad-core and 6-core Intel Xeon processors running at speeds up to 3.33 GHz. These multi-core processors use a single die design so each core can share up to 12MB L3 cache to improve efficiency while increasing processing speed. These systems feature an integrated memory controller for faster memory bandwidth and reduced memory latency; Turbo Boost to dynamically boost processor speeds up to 3.6 GHz; and Hyper-Threading to create up to 24 virtual cores. The Mac Pro now comes with the ATI Radeon HD 5770 graphics processor with 1GB of memory and customers can configure-to-order the even faster ATI Radeon HD 5870 with 1GB of memory.
The new Mac Pros are shipping in 7-10 days.