Cortex A9-Based iPads, Verizon iPhone, iOS-Based Apple TV Set for 1Q 2011 Launch?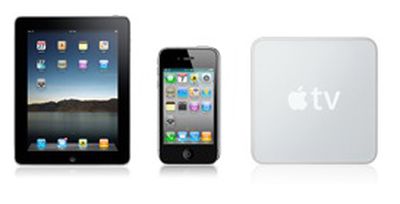 DigiTimes
today
offers a number of claims
related to Apple's iOS platform, agreeing with other recent reports that the Verizon iPhone will launch in January, with new 9.7" and 7" iPads and iOS-based Apple TV also set for introduction early next year.
- iPad: DigiTimes claims that Apple will refresh its iPad in the first quarter of 2011, moving to a processor based on ARM's Cortex-A9 design, up from the current Apple A4 chip leveraging the Cortex-A8 design. The report also claims that the new iPad will carry the same 512 MB of RAM as the iPhone 4, up from the 256 MB found in the current iPad.
According to the report, the iPad will be available in both the existing 9.7-inch screen size and a smaller 7-inch size. The smaller version is, however, said to carry the same 1024x768 resolution of the existing iPad, resulting in an increase in pixel density to 183 ppi from 132 ppi. While not offering the same high resolution as the iPhone 4's Retina display at 326 ppi, content on the smaller iPad would appear a bit sharper than on the larger version.
DigiTimes previously claimed that Apple was planning both 5.6" and 7" iPad models using OLED display technology, although even it cast doubt on its own sources' OLED claims. And just last week, another report claimed that a 7" iPad is on its way by early next year.
- CDMA iPhone: As previously reported, Pegatron is claimed to begin production of a CDMA-based iPhone in December for an introduction at CES in January and shipping during that same month. The report also claims that the CDMA-based iPhone, which will be targeted to Verizon in the U.S. and China Telecom in that country, will carry a metal back instead of the glass back found on the iPhone 4. DigiTimes also references an "integrated antenna" that will be part of the back plate, a seemingly significant redesign from the iPhone 4's antennas built into the edges of the device.
- Apple TV: Finally, the report claims that Apple is preparing to introduce a new Apple TV based on AMD's Fusion platform. The new device, which has been rumored for several months, is said to lack a hard drive and run an interface similar to, and presumably based on, iOS. Support for "social networking websites, network multimedia and the App Store" is said to be included. Mass production of the new Apple TV is reportedly set for December, with an introduction presumably planned for early 2011.